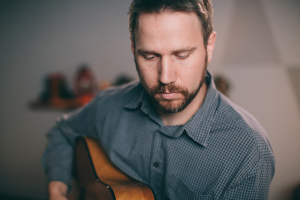 Vancouver area recording artist, Michael Jantzen, carves out his own space between folk and country.
Existential ponderings, the beauty of the present, hope deferred or found — these are the themes of Jantzen's debut EP, The Road Unknown, released September 2015. Each of the eight songs tells a story, inviting listeners to hear echoes of their own pilgrimage.  
"Sometimes people tell me about a memory or experience that my music evoked. That's the kind of connection I love to see happen. I want my songs to be accessible, to mean something to others, not just to me."
From the whimsical tribute to a good o'l campfire in Come Enter In, or the more melancholy portraits of life on the broken side of love (In the Cool of the Night and Tattered and Torn), his songs have a way of making themselves at home with our hopes and hurts — of reminding us that it's the twists and turns that teach us the most. As the chorus of the opening track says, "The road unknown is inlaid with finest gold."
Better known artists like Neil Young, Bruce Cockburn, Blue Rodeo, and Patty Griffin, have certainly made their mark on his style, but his greatest influence has been the Northwest's indi-folk scene, which all started with his dad taking him to the local folk festival every year.

Michael Jantzen has a gift for weaving introspection into poetic narrative and stick-in-your head melodies. Combined with his nuanced baritone and delicate guitar playing, he creates a distinct and inviting brand of roots music.